47th Annual Apple Pie Crafts Fair
28aug9:00 am3:00 pm47th Annual Apple Pie Crafts Fair
Event Details
About this event
Booths are sold out for the 2021 Fair, but if you are an interested crafter, please join the waiting list and we will release booths for registration if any open up. We are hopeful that we may be able to add a limited number of additional booths at a later date.
********************************
Apple Pie Crafts Fair 2021
The 47th Annual!
Sat. Aug. 28, 2021 |  9am-3pm | Rain or Shine |  Newport Town Common, Newport, NH
The 47th Annual Apple Pie Crafts Fair will be held, rain or shine, Saturday, August 28 from 9am – 3 pm on the Newport Town Common. The Apple Pie Crafts Fair is an annual event sponsored by the Library Arts Center. Booth fees help to raise much-needed funds for exhibits, classes, and programs.
*Please note that while the Library Arts Center has made the determination to move forward with the Fair and begin registration, a final determination will not be made about whether or not we are able to run the Fair until late July. In the event the organizer cancels this year's Fair, full refunds will be made to all registered vendors.
**Additional precautions for health and safety are being made in light of the pandemic, and due to increased spacing, less booths are available at the current time. If guidelines change, we may be able to open up additional spaces, and will utilize the waiting list. Find out more about changes to this year's Fair 
at the link HERE
. The Apple Pie Crafts Fair attracts 3000+ people to Newport from a range of surrounding communities. Our 2019 fair was our biggest, most well-attended event to date! This iconic Fair features an apple pie contest & sale, live music throughout the day, and food vendors. It is open to both amateur and professional artists and craftspeople and will provide an opportunity to exhibit, market, and demonstrate your work. We work hard to keep the Fair a true "Craft" Fair, therefore, we only feature hand-crafted items. 
Items for sale must be 1) handmade 2) handmade locally 3) handmade by you. If your items for sale do not meet all of these criteria, then you need not apply.
 Please inquire about booths for non-profit organizations. There is a very small quota for this category, and spaces fill quickly. If you have any questions about the criteria for entry, please click the link below for details 
on our website.
We are offering several different sizes for booth spaces. Please see the map of the Common to note the distinction. (note: fee is for space only and does not include tables, chairs, etc.) *Please see the map below to see the distinction. **Also, please note that the 10x10 booths on the Common Interior do NOT have access to electricity.
2021 BOOTH SPACE OPTIONS: 
10'x10′ Booth Space on the Common Interior: $60 
(NO ACCESS TO ELECTRIC) Smaller booth size, and NO electric available.
15'x15′ Booth Space on the Common Perimeter: $75 
Slightly larger booth size, and electric available upon request.
Food Vendor Booth Space: $75 
(**A very limited number of Food Vendor booths are available in 2021. Electric available upon request.)
**There are no "early bird" rates available in 2021.
For more information about applying to be a vendor for this year's Fair, please visit the link below. 
http://libraryartscenter.org/applepie/
Space fees are non-refundable after August 15, 2021.
No vendor is accepted for booth space until payment is received in full. No booths will be booked on the morning of the fair. You will be responsible for providing your own display tables, tent (in case of rain and for shade) and managing your own sales transactions. You will be assigned a specific booth space.  A map of booth locations will be posted at the bandstand on the common the evening before the fair, and also on our website www.libraryartscenter.org.  For additional information, please see libraryartscenter.org or call the Library Arts Center at 603-863-3040.
Crafters MUST move their vehicles from around the common after unloading in order to make room for customers to park.  NO exceptions will be made. 
Registration confirmation will be made via email. Registration confirmation will be made via email. Application does not guarantee selection. Initial acceptance will be emailed within three weeks of your application. To be added to our crafter email list to receive first notice of the application for the Apple Pie Crafts Fair in 2022, please sign up at the link here:  
https://lp.constantcontact.com/su/lIXon1F/applepie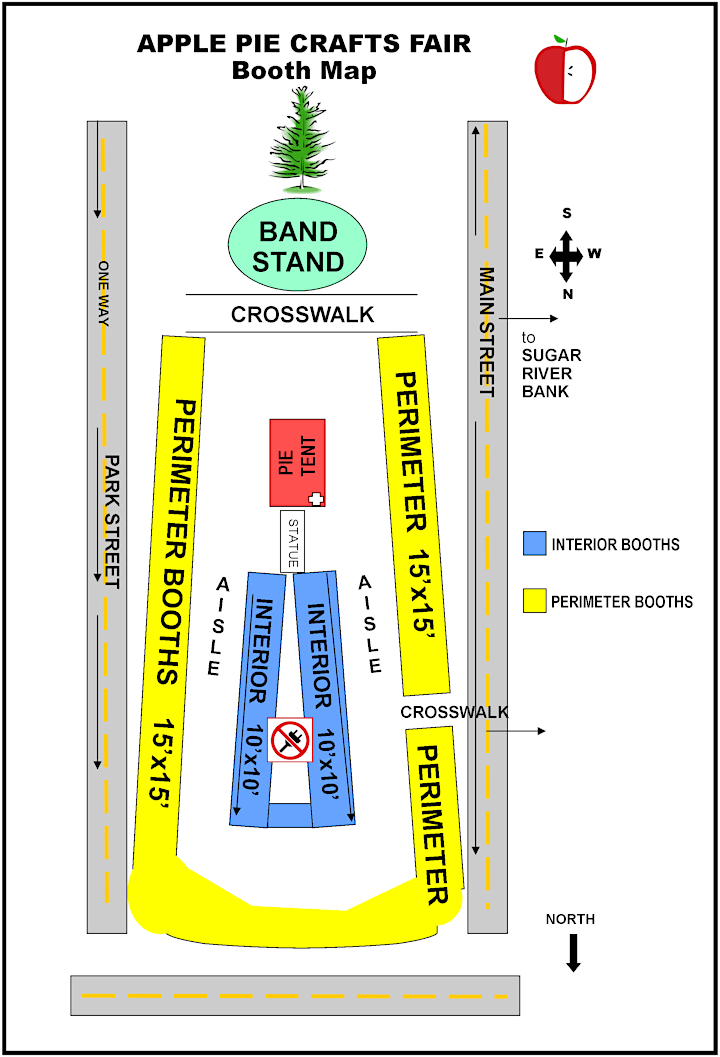 more
Time

(Saturday) 9:00 am - 3:00 pm
Location

Newport Town Common

N. Main St. Newport, NH 03773